Mary Lynn Dobson
Mary Lynn is a Jersey girl who has worked in the theatre as a director, actor and playwright. Her play, Skin Deep was one of the winners of the Samuel French Off-Off Broadway Short Play Festival and is published in the OOB 2010 edition. Two on the Aisle-Three in a Van, also published by French, was performed in the NYC Fringe Festival garnering the Summer Theatre Citation for Outstanding New Play as well as being awarded Best Ensemble Cast. The play was also honored at the University of Northern Kentucky as a winner of the Y.E.S. New Play Festival. NKU also staged another of her works, Dracula, Down for the Count, at the NKU Summer Theatre where it received its professional debut in a sold out run. Mary Lynn also penned the family comedy, The Somewhat True Tale of Robin Hood, which is published by Dramatic Publishing. The Somewhat True Tale of Robin Hood has not only been staged in every state in the US, but has had productions mounted all throughout the world, making her one of Dramatic Publishing's most produced playwrights. When not writing, Mary Lynn can be found directing. Besides directing several productions of her own works, other favorite shows have included: A Funny Thing Happened on the Way to the Forum, She Loves Me, Sylvia, Rounding Third, Urinetown, My Fair Lady, Once Upon a Mattress, The Odd Couple, Barefoot in the Park, Guys and Dolls, and The Pillowman.
Other Plays by Mary Lynn Dobson
Please note: Ms. Dobson's other works contain adult language and are not suitable for casts under the age of 18.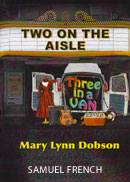 Two on the Aisle, Three in a Van
Welcome to another stellar season at the Neighborhood Actors Summerfun Repertory Theatre. a friendly little playhouse where, due to a lack of wing space, the company spends their downtime in the parking lot around an aging hippie/now turned techie's van. Those looking for refuge at the asphalt oasis include: a stressed-out artistic director grappling for funding, a wanna-be diva who's realizing her ingenue expiration date has just about passed, a board member's nephew vying to direct the musicals with a Tarrentino spin and the "I'm no chorus boy" chorus boy who thinks every show should have a kick line - including Glass Menagerie. These are just some of the egos and obstacles that fall into the lap of Mike, a nice-guy director who ends up with far more than he bargained for. Anyone who's ever seen a show may know these people. Anyone who's ever done a show may be these people.

FOR LICENSING AND PURCHASING SCRIPTS CONTACT



CLICK HERE
Skin Deep
Just because it's glitters, doesn't mean it's pretty. Told in mockumentary style through the eyes of six pageant-obsessed women, Skin Deep is a scathing comedy about the world of child beauty pageants. This 30 minute comedy was one of over 850 submissions entered in the Samuel French OOB Short Play Festival. Forty plays were chosen and performed Off Broadway over a period of one week. Out of these plays, six winners were chosen by Samuel French to receive publication and licensing contracts. Skin Deep was one of these winners and is published in the OOB Festival 35th Edition.